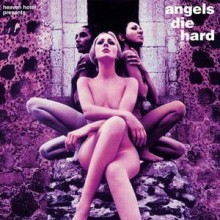 "They were born, started breathing, discovered music, instruments and birds."
In 2011 the 3 members of Angels Die Hard met for the first time at the Moroccan Zoo in Rabat right in front of the cage of the last living 'black-beaked unga dunga'. While talking to each other they found out that they shared a passionate love for exotic birds. This, however, does not affect their music at all.
As a notorious underground make-up dealer, Thomas was in Rabat looking for a rare dark coloured mascara, while Rob was there studying the habits of the black-beaked unga dunga. Alex however, being the son of Morocco's biggest Jetski club owner, who in the late 60's served as an extra in the biker movie "the wild angels", had no reason to be there at all.
While watching two Asian falcons mate, they started to talk intensely about wrestling, thai food and head injuries. They ended up playing all night on found instruments in an abandoned snake pit.
Some songs on the album are a tribute to Alex' father's biker movie past. Other songs are evocative of Thomas' strange travels deep into the dark heart of Asia searching for the perfect mascara. And if you listen very carefully to the record you might discover some field recordings of long thought extinct birds made by Rob in the jungle of Ceylon.